March 15, 2023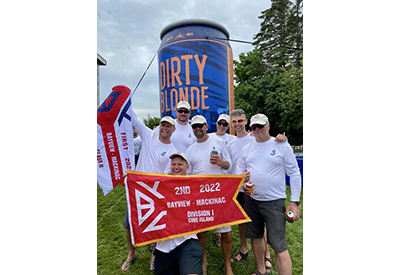 Greg Chamberlain and Sarnia Yacht Club crew sailed winning First 36.7 Huzzah in the Bayview Mackinac in 2022
Detroit's Bayview Yacht Club announced that registration for the 2023 Bayview Mackinac Race (BMR) and pre-registration for the 2024 Race, the 100th edition of the world's longest consecutively run long-distance freshwater yacht race, is open.
More than 160 competitors have already signed up to participate in the 2023 BMR, which begins July 15. A handful of Canadian boats are already signed up including Greg Chamberlain and crew of Huzzah, a Beneteau F36.7 from Sarnia Yacht Club, which won its class last year on Greg's maiden entry (he went on to finish 10th in the large 36.7 fleet in the Chicago Mack).
To register or learn more about the 2023 race, click HERE.
According to Kevin Thomas, Chair, 2023 Bayview Mackinac Race: "Registration for this year's race is off to a strong start. Seeing the number of new and returning boats already registered is exciting. We have boats from Texas, Florida, Arkansas, Illinois, Ohio, Minnesota, New York, and Ontario already signed up to race." More than 160 competitors are already signed up.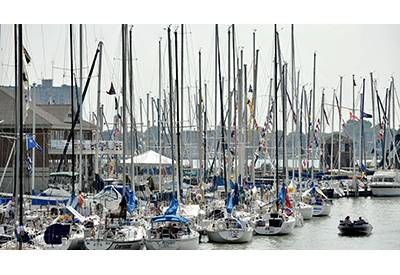 Space is at a premium at the BMR
In anticipation of the historic 100th consecutive running of the BMR in 2024, officials have announced that pre-registration for that event is now open. By pre-registering, sailors will be allowed to register for the race a week before official race registration opens in early October 2023.
"We expect a large fleet for the 2024 race, maybe the largest ever, and with limited dockage, berthing on the island will be at a premium," said Charlie Trost, 2024 Bayview Mackinac Race Chair. "The goal in opening pre-registration so early is to secure boats who have been regular participants of the race and give new and out-of-town boats time to plan."
The 100th BMR will start on July 20, 2024. To learn more visit HERE. Current or returning competitors can register their boat record on the official race website, www.bycmack.com. New competitors must complete a request for an Invitation that can also be found on the official race website. If competitors have any questions, they can email Trost at This email address is being protected from spambots. You need JavaScript enabled to view it..
The historic Bayview YC in Detroit