May 27, 2021


IRC Four start is by Paul Wyeth.

While in Canada, sail racing is largely on hold thanks to various stay at home regulations, activity is bustling on the other side of the pond.

With 450+ yachts entered in this year's 49th edition of the Rolex Fastnet Race, the Royal Ocean Racing Club's biennial flagship event has consolidated its position as the biggest offshore yacht race in the world.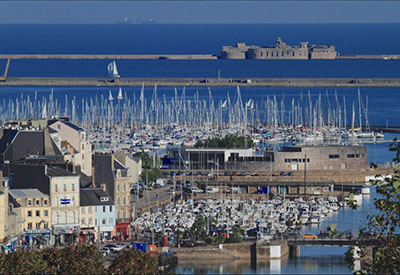 Cherbourg's Port Chantereyne will host the Rolex Fastnet Race fleet © JM enault ville de Cherbourg en Cotentin

The 2021 Rolex Fastnet Race sets sail from the Solent on 8th August, back to its original position of the Sunday following Cowes Week, but with a new finish port. As usual, the course takes the boats down the south coast of England, between the Scilly Isles and Land's End and across the Celtic Sea to the Fastnet Rock off southwest Ireland. The fleet then returns rounding Bishop Rock, to the west of the Scilly Isles. From here the course is new for 2021 with the finish port having moved from Plymouth, its traditional destination since the race's first edition in 1925, to Cherbourg in northern France. This change increases the length of the race from 608 to 695 miles. Tactically it will place fresh demands on crews with a final hurdle of tackling the fast-moving currents of the Alderney Race before reaching the finish.

Most extraordinary about this year's Rolex Fastnet Race is its huge fleet. Over the last two decades this has almost doubled in size, but the leap between the 2019 and 2021 has been the biggest ever, up to the present tally of 453 from 388 two years ago. And this is despite uncertainty brought about by the COVID-19 pandemic.


Most spectacular is the sheer array of yachts competing. Within the IRC fleet this includes some of the largest and fastest maxi yachts, such as George David's Rambler 88, the defending monohull line honours champion, which this year is due to enjoy stiff competition from the brand new, foil-assisted Swan 125 Skorpios. They will be trailed around the course by several VO70, 65 and 60 former Volvo Ocean Race entrants.

The hottest competition is typically within the five principal IRC classes, the winner of each receiving a trophy such as the Hong Kong Cup for IRC Zero, the West Mersea YC Trophy for IRC One, etc. The larger classes, IRC One to Four are further subdivided.

There is especially stiff competition between the sisterships. The largest of these are the 17 x J/109s and the 13 x First 40s. Then there are several more modern French models, notably the JPKs and Jeanneau Sun Fasts, which are popular due to their contemporary designs which have proved competitive under IRC.

For more info head to https://www.rolexfastnetrace.com/en/