Sept 10, 2020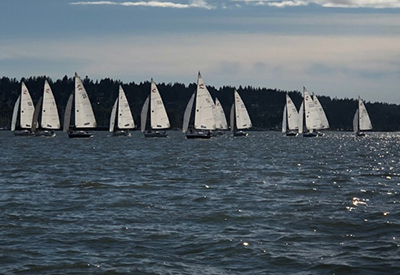 Just writing to let you know what we've been up to on the west coast in the Martin 242 fleet, in this unusual COVID year.

Official racing through the yacht clubs has of course been completely shut down this summer. The Royal Vancouver YC normally runs a Wed night race series through the spring and summer for both PHRF boats and one design, as well as several weekend events. There's also a big fleet of Martins at the Kitsilano Yacht Club and several racing out of Tiddley Cove Yacht Club in False Creek, both clubs also run a few events – all canceled this year.

So we decided to start up an 'unofficial' training/tuning series to take the place of the usual Wed night one design races.

Some ad-hoc rules were drafted to respect COVIC-19 restrictions: 2 or 3 crew maximum, ideally already part of your COVID 'bubble'; white sails only (no spinnakers.) Boat crews were expected to follow Dr. Bonnie Henry's public health guidelines and to maintain social distancing when off the water during launching and de-rigging, and obviously no dinners or bar after racing (although we've been having informal socially distanced hangouts to catch the sunset in the boat park at Kits YC after sailing – you can't really stop sailors from having a few sneaky beers after racing.)


Race formats were really simple with only a single windward mark and the start pin doubling as the leeward mark. Race committee of one on a small RIB or whaler, and a 3-minute start sequence using a whistle and no flags. We mostly rely on the honour system for OCS and fouls. The courses are much shorter than usual mostly because the downwind legs can get a bit long with no spinnakers – typical races were no more than 20-30 minutes long.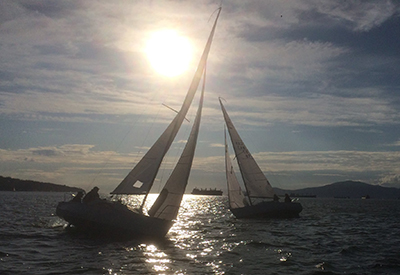 I'd say it's been an overwhelming success, with 10-15 boats out most nights this summer. We've been getting 4-5 races in on the windier nights where typically our Wed nights were maximum of two. The short courses have made for some really close racing, and put a huge premium on good starts, tactical sailing, and good mark roundings, reminding me of my early days racing dinghies on short courses (shoutout to the Queen's University Sailing Team, go Gaels!)

In place of the usual post-race dock talk we've been posting results and trying to encourage a virtual debrief in the comments on the fleet Facebook page, with winners on the night chiming in on what worked or what they focused on. Lots of skippers have been sailing with family members – spouses, kids, siblings - that don't normally get out racing but were already part of the bubble, and the lack of kites means can sail with fewer experienced crew without a huge penalty on boat handling.


I think it's been a great opportunity to learn for all boats involved, and the different more relaxed format was even a refreshing change. If nothing else it's certainly been nice to get out on the water racing regularly on an otherwise shot summer for sailboat racing!

Reto and his son Max
Cheers,
Reto Corfu
Martin 242 #13 Back in Black